click on a photo to enlarge. A new window will open up.
Johnny Herbert
Arrows Test Driver
Mark Webber
Benetton Test Driver
Tomas Scheckter
Jaguar Test Driver
Pedro de la Rosa
Jaguar Test Driver
Marc Gene
Williams Test Driver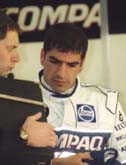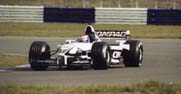 All pictures on this site are subject to copyright by their respective creators or owners. Publication, copying, broadcasting or retransmission of pictures without the written permission of the copyright holder is prohibited. Please contact [email protected] if you have any queries.
Photos from other sessions at Silverstone
Back to the Silverstone Test page
Back To Main Testing Page
Back To Top
---